I am working on a wedding video and I want to do something different. I want to start off with the first couple of pictures with the look of a scrapbook. I have the slides set up with the style, but I am wondering what I can do to make the first slide (before the 1st picture) to look like a scrapbook. I also want to end the show with the same style. Thanks in advance for any suggestions!!
Also, I have ProShow Gold V4
P.s My website is
http://www.memoriesnmotiononline.com/
. I appreciate any and all constructive criticism. Thanks!
---
ProShow Hall of Fame
Posts: 3143
Joined: Mon Nov 13, 2006 7:42 pm
Location: Northern Virginia
First, welcome aboard!

I think I have an idea of what you want as a result but I'm not sure I understand your problem. When you use the word "style" do you mean that you're using a PSG slide-style? That's the way I read your message--but that may not be what you mean.

Still, assuming that's what you do mean, is the question how to put something in front of that represents the scrapbook but is outside the style? I'm not familiar with the slide style you are using, but I assume there's a background image with the scrapbook page that the pictures are added to. You can just use that image by itself--edit the style to get the background out of it and use it alone as a lead in.

Unfortunately, if I misunderstand what you're doing or trying to do my answer will be of little use -- a little more info about what you're building might help us help you.

Dick
"It is the mark of an educated mind to be able to entertain a thought without accepting it." Aristotle ((PSG, PSE & Fuji HS20 user))
Presentation Impact Blog
---
I'm new to PSG, but I have done something similar for my brother's wedding website. They wanted a travel themed website that looked like a scrapbook of the places they've been together. What we came up with was pretty simple. The landing page of the site had a background that was a picture of the front cover of a photo album and various souvenirs from their travels around it. Once you clicked anywhere on the screen you were taken to a page where the background was a picture of the opened album. The contents of each page was then placed as if they were in the album itself. I think you could do something similar in PSG. Take some pictures of the front cover, opened pages, and back cover of a scrapbook you like (or find pictures from a stock photo site) and use them as the background of the slides. I'm not sure what would work best for the slide transitions, but I would think something sweeping from right to left would work fine. Here are the images we came up with to give you some ideas: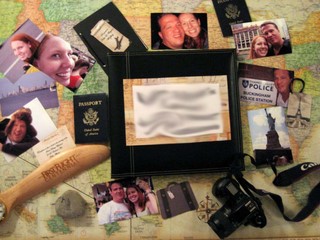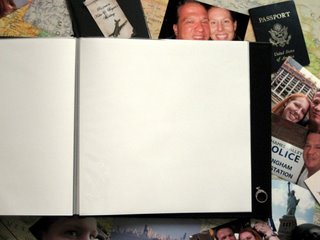 ---
Posts: 1777
Joined: Tue May 27, 2008 2:29 pm
Location: Shingle Springs, Northern California
What a cool idea Joel!
---
Posts: 780
Joined: Sun Nov 30, 2008 2:20 pm
Location: Huntsville, AL
---
Valued Member
Posts: 112
Joined: Thu Oct 09, 2008 8:15 pm
Location: Westeren Massachusettes
What you could do is create the scrapbook pages in Photoshop, or whatever you use for an image editor.

There are a lot of free photoshop patterns and brushes and shapes out there, and there are also a lot of digital scrapbooks kits, both free and paid for. Scrapbook kits contain 'papers' to use as backgrounds and also design elements. Google it and you'll find a ton!

(Oh and tried to view your website, but it isn't live yet? Your link goes to the GoDaddy page)

@ AMD - That's a great show, but it says it was done with Producer...Gold doesn't have a lot of what was used in that show.
---
Member
Posts: 4
Joined: Thu Jan 27, 2011 1:58 am
What a great idea. I was actually wanting to have something like a scrapbook but digitalized instead for my 2 kids.
Yet I really like the actual srapbook idea. Will try to do something like that too.
Haven't purchased the software yet but might soon.
---
Return to PSG - Style & Technique
Who is online
Users browsing this forum: No registered users and 4 guests