I am new to the Forum (Just joined), and I apologize if this suggestion/request has been mentioned before. My feature suggestion is the ability to sort images by "Picture Taken On". This option is useful when working with pictures taken by different cameras/photographers.
It is missing in the current version as can be seen in the menu below: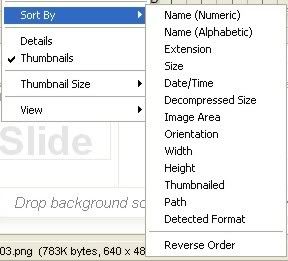 In other words, I would like to be able to sort images by the date from the EXIF information and not by the date/time the file was last edited (Actual option in PSP) as is possible in Windows, right now, and shown in the image below.
Albert
---
ProShow Hall of Fame
Posts: 3143
Joined: Mon Nov 13, 2006 7:42 pm
Location: Northern Virginia
Two thumbs up on this one PhotoDex! Pleeeeeeeeeeeease?
Dick
"It is the mark of an educated mind to be able to entertain a thought without accepting it." Aristotle ((PSG, PSE & Fuji HS20 user))
Presentation Impact Blog
---
Posts: 20
Joined: Wed Aug 25, 2010 7:31 am
I know this is an old post, but I vote ABSOLUTELY!
I have to rename my slides before inserting into PSG because this feature is missing.
PLEASE add !
---
Member
Posts: 3
Joined: Tue Feb 08, 2011 9:33 am
I also agree and was surprised to see this posted so long ago. I shoot with 3 different cameras and this would be a huge help - how can we get this to happen?
---
Posts: 7501
Joined: Wed Nov 29, 2006 6:35 pm
Location: Kirkland,Wash, USA, Earth
For what it's worth, I always use a utility to rename my pictures to a name that reflects the date/time the picture was taken as well as which camera took the picture (I use setnametotime, but the guy that wrote it is not offering it any longer, however Picture Information Extractor (PIE) and other utilities can so the same sort of thing. I use YYMMDD_HHMMSS_camera.jpg as the basic format. This allows all my images to sort by time taken (assuming we have remembered to set the fool clock in the camera
). It has worked very well for me - makes it easy to look at an image and quickly tell when it was taken and by whom so I can sort not only by time, but by camera. While this isn't the same as have a function in Proshow that sorts by the time taken in the EXIF, it does accomplish what you are asking for (since the rename utility bases the file name on the timestamp in the EXIF for the image).
mikey
You can't have too many gadgets or too much disk space !!
mikey (PSP6, Photoshop CS6, Vegas Pro 14, Acid 7, BluffTitler, Nikon D300s, D810)
Lots of PIC and Arduino microprocessor stuff too !!
---
Hi I have just joined this forum. Great. Would like to request this suggestion be revived - I wrote to Proshow several years ago with the same request and they replied it would be considered for a subsequent release BUT NOTHING HAS HAPPENED. I often make shows with pics from several cameras for the same group holiday, which have often been tweaked by the contributor or myself and I need to sequence them in the order they were taken, not edited!

Surely this is one of the easiest improvements to incorporate. I would certainly upgrade from v5 to the latest if it was available......
---
Posts: 3745
Joined: Thu Aug 17, 2006 11:21 am
Location: Parker, CO
There have been a number of feature requests over the years ... and most have yet to be implemented. One thing Photodex is fearful of is "feature bloat." I can only imagine what their database of feature requests are at this point.
Between the bug fixes and requests for various features, I'm sure Photodex has it's hands full trying to fit any of that in with the new features they implement into the program. So, with respect to any feature you may have requested ... one thing you DO NOT want to do, is hold your breath for any of them. Your patience might be rewarded in 4 or 5 or 6 or 7 years!
Dale
---
Return to PSG - Feature Requests
Who is online
Users browsing this forum: No registered users and 0 guests