Active Member
Posts: 54
Joined: Tue Apr 10, 2012 7:49 pm
Hi all !! Xmas greetings from Melbourne Australia !
Its Xmas Eve here at this time (Around 7pm) current temp 22 deg Cel. Trust you are all well.
I would like to pass on to a few people my thanks for their help over this past year.

Firstly, Dale. Fenmore. who's genius with this program leaves me Gobsmacked! Thank you Dale.( your last email from im42n8 lost me after (A Doozy) but I still read it all the way through.

Next, Mikey (not Mickey) who I turn too when I panic. (Hello old Mate)
Anita,, from " Outside the box " who's creativity is second to none. (I will purchase more Style packs when 64 comes along! now having said that I may fall off the perch before,, Ouch,, no Brownie points for that slap)

Mona,, (Ditto) (Dale ditto)

To all those who, so badly want and Need,, a 64bit Producer,, Do not give up!!! ( Go Luke Muller) trust I spelt that right Luke).

To Barbra and Debbie ,, I read their banter with interest.

All in all I think a poor year for Producer ! only because I have in myself reached the limit to which i am prepared to go without the additional help that a 64bit would offer.

I trust that all at this site are in good health ,happy, and eager to look forward to what this next year brings us..

Kind Regards to all

EJAB. aka eJohn Byron Melbourne Australia.
---
Posts: 5391
Joined: Fri Nov 17, 2006 11:55 am
How kind... Wishing a Merry Christmas to you too John!
---
Posts: 7500
Joined: Wed Nov 29, 2006 6:35 pm
Location: Kirkland,Wash, USA, Earth
Thanks for the wishes - Merry Christmas to you too ! Still morning here - have not even made the coffee yet ( contrary to what my wife says - I can be trained !!
)
In the spirit, here is a hummingbird in the snow (real snow) with an added hat ...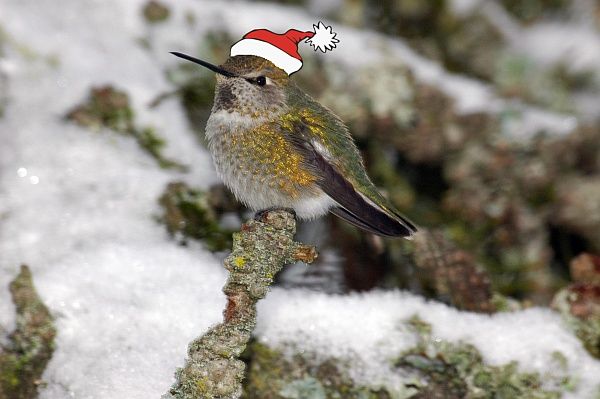 mikey
You can't have too many gadgets or too much disk space !!
mikey (PSP6, Photoshop CS6, Vegas Pro 14, Acid 7, BluffTitler, Nikon D300s, D810)
Lots of PIC and Arduino microprocessor stuff too !!
---
Posts: 9321
Joined: Thu Sep 20, 2007 12:37 pm
Location: E. Greenbush, NY
Merry Christmas, John, and to everyone else here on the forum!

(I bet Santa invented time zones so he wouldn't have to go 24 times faster.)

Barbara
---
Posts: 4538
Joined: Sat Jul 15, 2006 10:07 am
Location: Israel
Happy Holiday's Season and a Happy New Year !
---
Who is online
Users browsing this forum: No registered users and 4 guests